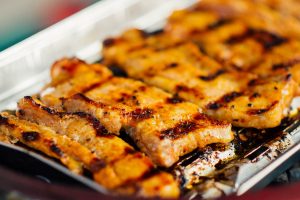 At the ripe old age of 9, Derrick stood in his Grandmother's kitchen. An old recipe Rolodex in his hand. He would watch and help with what he could, and write down what she was making on the cards. His mother was also an inspiration. By the time he was 13 his mom, who was known for her Easter candy, took classes to start her own catering business. He would help her with her catering by setting up tables and arranging food under her direction. It was there he learned the importance of not just the quality and taste, but the presentation.
As Derrick says – People eat with their eyes.
Over the years Derrick has worked with food ranging from fast food to 4 and a half star restaurants; from a Deli, to sports bars, to seafood, and New Orleans style cuisine. He had the privilege of working under a chef. That not only solidified what his mother taught him early on, but showed him what it meant to love his work. Cooking isn't just a job to him, it's not even a career for that matter. It's a way of life.
As his wife Liz says – He's at his best behind the heat of a fire.
There's always been something about cooking over a fire or hot coals for Derrick. His love of anything smoked or barbecued fuels him. Maybe it's the basic fundamental of cooking over a fire or maybe it's the refined technique in controlling the heat and adding his own flavor that makes it so special. As testament to that, on his lake view patio in Florida, he constructed a simple outdoor kitchen from cinder blocks and wood with a tabletop counter and utility sink. His smoker is nothing fancy. Derrick is a man of simple means. All the money and equipment in the world doesn't substitute for quality and care. It's what's inside the smoker that counts.
In his aspiration to become a Pit Master, he's learned that for any great barbecue you need great flavor. In his quest for the ultimate flavor, his sauces were born. Because Derrick loves to share his food, he brought it to family and friends to taste. They were an instant hit. So much so that they wanted to buy it. Now, with sales skyrocketing, he can't make it fast enough. He never thought of bottling his sauces, but with the feedback and demand, it's now time to open the gates and share it with you.