Apple Coleslaw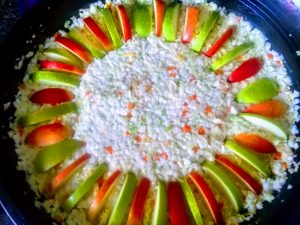 Ingredients
2 ½ lbs coleslaw mix (Cabbage and Carrots)
½ cup of your favorite coleslaw dressing
½ cup apple juice
1 Granny Smith apple, core removed and grated
1 Gala apple, core removed and grated
1 tbsp CerraSauce Gun Powder
Sliced apples of your choice for garnish
1 tsp lemon juice
Directions
Mix together all ingredients (except garnish apples) into a large bowl until
thoroughly incorporated.
Toss apple slices in lemon juice to prevent browning and arrange around edge of
bowl.
Chill for at least 30 minutes before serving.
Sweet Roasted Brussels Sprouts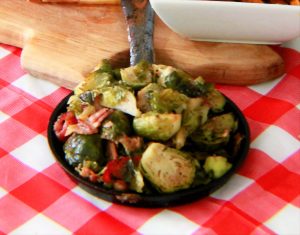 Ingredients
1 lb Fresh brussels sprouts, halved
2 tbsp butter
6 slices of bacon
½ tbsp CerraSauce Gun Powder
¼ cup maple syrup
Directions
Preheat oven to 350 degrees.
Place bacon on wire rack, over top a baking sheet to catch grease and place in
oven for 20-25 minutes.
As bacon cooks, melt butter in a large pan and add brussels sprouts. Sprinkle in
Gun Powder. Cook at medium/high heat until sprouts begin to soften.
Once bacon is done, remove from oven and dice, then add into pan with sprouts.
Cook for 1-2 minutes to marry flavors, then transfer sprouts and bacon to baking
dish. Drizzle on maple syrup and toss.
Place into oven and bake for 30 minutes or until sprouts have completely
softened and begin to brown.
Serve hot and enjoy!
Corn Snake Casserole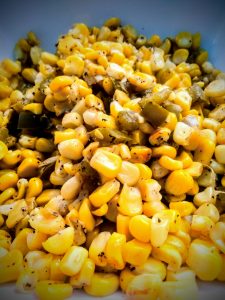 Ingredients
6 ears of corn, husked removed
1 tbsp parmesan cheese
½ tsp CerraSauce Snakebite
1 green pepper, diced
1 red pepper, diced
¼ cup mayonnaise
Directions
Preheat smoker to 300 degrees or grill to medium/high heat.
Brush each corn cob with a coat of mayonnaise and place in smoker or grill.
Cook corn until desired roasted or caramelization appearance.
Remove corn from heat and in a large bowl, cut kernels from cob.
Mix in peppers and parmesan cheese. Serve warm.
Personal Pizza: Veggie Ranch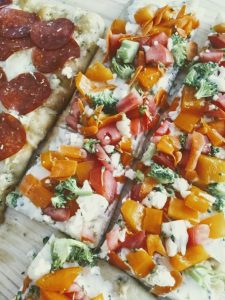 Ingredients
Precooked pizza dough or Naan bread
4 oz cream cheese, softened
1 tbsp Ranch seasoning
½ cup shredded cheddar cheese
½ cup fresh broccoli, chopped
½ cup fresh cauliflower, chopped
½ yellow bell pepper, diced
½ cup tomatoes, diced
Directions
Preheat smoker to 350 degrees or grill to medium heat.
Mix together cream cheese and ranch seasoning until well incorporated and
spread over pizza dough/bread.
Evenly distribute vegetables over cream cheese spread and top with cheddar
cheese. Place into smoker or grill and cook until crust reaches desired crispness.
Let rest 5 minutes before cutting and serving.
*This recipe is delicious cold as well! Just cook your crust on grill or smoker until desired
crispness, then add toppings and serve! Great for parties!
Personal Pizza: Tomato and Herb White Pizza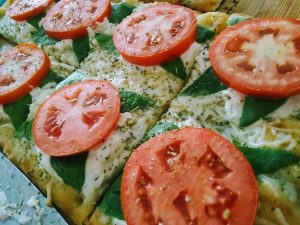 Ingredients
Precooked pizza dough or Naan bread
½ stick butter, melted
1 tbsp minced garlic
6 oz shredded mozzarella
6 tbsp ricotta cheese
Fresh basil leaves, or baby spinach
2 tsp garlic powder, divided
1 tsp CerraSauce Gun Powder
6 slices of Roma tomatoes
1 tsp oregano
Directions
Preheat smoker to 350 degrees or grill to medium heat.
Mix together ricotta cheese, 1 tsp garlic powder and 1 tsp Gun Powder until
blended. Set aside.
Brush melted butter and minced garlic onto pizza dough/bread and top with
mozzarella cheese.
Drop 1 tbsp of ricotta mixture at a time, spaced evenly apart, on pizza.
Press basil or spinach leaves onto ricotta and top with tomato slice.
Place pizza into smoker or grill and cook until cheese has melted.
Remove from heat and let rest for 5 minutes before slicing.
Sprinkle pizza with remaining garlic powder and oregano just before serving.
These ribs are tender, flavorful and perfectly sticky!
Ingredients:
Any style ribs of your choice (St. Louis, Babyback, Spare)
Salt
1/2 cup of Root Beer or Dr.Pepper (per rack of ribs)
1/4 cup Tumbleweed (per rack of ribs)
1/4 cup Deputy (per rack of ribs)
Remove membrane from ribs. Sprinkle salt evenly over both sides of ribs. Let ribs set out at room temperature for 30 min.
Place ribs into smoker at 235 degrees, using your favorite smoke flavor. (We like Mesquite) Cook for 2 hours
Remover ribs after 2 hours, place in aluminum pouch with Root Beer or Dr. Pepper. Place back in smoker for another 2 hours.
After 2 hours, remove ribs from pouch and place back in smoker with an even coating of Tumbleweed. Cook for 1 more hour.
After 1 hour, coat ribs evenly with Deputy. Place back in smoker for 10 more minutes.
Once removed from smoker, let cool for 10 minutes, serve and enjoy!
This super quick, super easy dish goes long on flavor even if you're short on time!
Ingredients:
8 oz of Atlantic Salmon
2 tablespoons of Gold Rush
Place salmon in aluminum pouch with an even coat of Gold Rush on the top. Place in oven or grill at 350 degrees for 10 minutes.
Serve with a fresh salad or favorite side.
A Pittsburgh classic with a Cerra Sauce twist!
Ingredients:
1 lb of very thin sliced deli ham ("Chipped Ham")
6 oz of Deupty
Place ham in Crockpot and cover with Deputy. Cook on low for at least 2 hours, Stir once or twice during cooking time.
Serve on hamburger bun or roll with fires or chips for an easy weekend or Game Day meal.